"It is in the minds and hearts of our children that the battle will be fought." 1
I would like to comment in this article with emphasis on our children as they are faced today with many challenges to come to faith and hold their faith in God and Christ. Although adults and parents face many of these challenges as well, I will relate how parents and adults can help our children, as they are the future of the church.
Challenges Our Children face
You might think the statement above about our children came from a Christian. It actually came from a secular humanist who toured the Answers In Genesis Creation Museum with hundreds of atheists.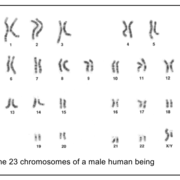 Chromosomes
With support from the United States National Institutes of Health and the Howard Hughes Medical Institute, scientists from several medical research laboratories in the United States and the Netherlands have recently completed a series of experiments designed to sequence the male-specific region of the Y chromosome (MSY) in the chimpanzee. 1 In their words, they achieved for the first time "levels of accuracy and completion previously reached for the human MSY." They also compared the MSYs of humans and chimpanzees and found that "they differ radically