This is Part 2 of a two-part series on Konathan Wells's new book Zombie Science. 1 Wells is a noted intelligent design (ID) advocate and author of the influential book Icons of Evolution. 2 Most of Part 1 was dedicated to reviewing the original Icons. 3  Here in Part 2, several new icons of evolution will be discussed such as whale evolution, the human appendix, human "tails," "junk" DNA, the "poor" design of the human eye, antibiotic resistance, and cancer. Other topics such as the impact of evolutionary thinking on education, medicine, social mores, human dignity, and science itself will be touched upon. As before, this review will explore the more important points brought out in the book, chapter by chapter. Wells, who has his doctorate in molecular and cell biology, is a good writer with a keen command of his subject. He writes clearly and concisely with penetrating insight and a sense of humor.
"Scientists: Fossils prove that birds evolved from dinosaurs" was the headline of a 1998 article in CNN News (June 24, 1998). Referring to two dinosaur fossil finds, one of which is depicted below, paleontologist Philip Currie pronounced that "[t]his shows that dinosaurs are not extinct, but are well-represented by 10,000 species of birds."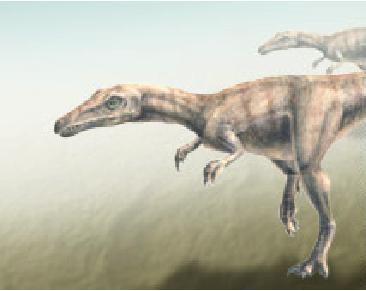 Figure 1 - Artist drawing of Juravenator, a 2 1/2 feet long juvenile carnivorous dinosaur

Figure 1
How many of us have heard that evolution is supported by the evidence of the fossil record or that millions of fossils prove evolution had to have occurred? It has been assumed that as more research accumulated and more fossils were discovered, there would be increasing evidence to support the thesis of Darwin that evolution of species has occurred. In fact, it now seems to be popular to think that this has indeed occurred, and that new fossil evidence - including evidence of whale evolution, etc. - now has lent increased support to the theory of evolution. We will look at the results of the research in the years following Darwin. We will also examine claims or statements from scientists, including evolutionists, about this fossil evidence. Let's look at this and see what the actual fossil evidence tells us!
You may have heard that dinosaurs evolved from birds. What evidence is there to support this?
According to http://www.businessweek.com/bwdaily/dnflash/november/new1115d.htm a bird-like creature lived 75 million years before the dinosaurs.
Now, that makes it hard for dinosaurs to be the ancestors of birds; the descendants would have lived 75 million years before their ancestors.